Yo yo, dawgs! It's your boy Zander here! Now that summer is almost over, it's time to head back to school. For any of those 8th graders heading into High School, I've got a few pieces of advice that I know you'll enjoy!
(Most of my advice comes from my older brother, Daniel, who just finished his Sophomore year. He's a pretty cool kid so I'm sure this is going to be a great back-to-school guide for guys AND gals! )
A Back-to-School Guide from Zander:
As always, I have to start off with fashion. First appearances are everything, especially in High School. High School is not only the beginning of your adult years, it's also the start to the rest of your entire life. You absolutely MUST make a good first impression to students and teachers alike.
My brother's first recommendation (and I wholeheartedly agree) is a cool graphic tee shirt that says who you are in a nutshell.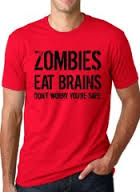 I found this shirt online and think it's perfect for me. It says "Zombies eat brains… Don't worry you're safe." Get it!? Like, whoever is reading the shirt doesn't have any brains because they're dumb! It's hilarious, witty, and everyone loves zombies.
The next most important thing you need to take care of before your first day at high school is your gear. When I say gear I mean school supplies. But no one says "school supplies" anymore. Daniel says that everyone just says gear. Like, "hey man, grab your gear we're going to theatre class," or maybe, "I left my gear in home ec!" Gear.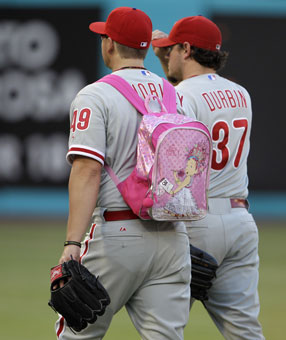 Since being ironic is "in" (according to my big bro), you should go with something that no one would expect you to wear. This year, I bought a Hello Kitty backpack. Everyone's going to think "Oh man, look at this guy," and I'm just gonna smile and nod my head. They know I'm hilarious.
Finally, if you want to make the best first impression, you've gotta have a cool ride. In my post about dating advice, I mentioned that I was riding a SICK little bike. Well, now that I'm going to be a High Schooler, I decided it was time to step my game up and buy a longboard. Sure, my school might not allow longboards on campus, but I'm a rebel.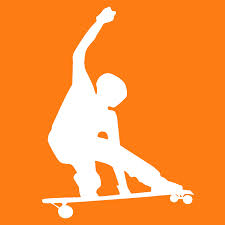 I went and bought a sick Huffy longboard that I'm going to deck out with some cool stickers Daniel let me have. Most of them are Playboy bunnies which probably isn't "school appropriate," but, again, I'm a rebel.
So, that about wraps it up! Remember these three things: cool clothes, sick gear, dope ride. Oh, and one more thing: make sure you pack "rubbers" on your first day. Daniel told me to be "safe" throughout High School. Guess I'll be stopping by Staples for one of those cool rubber band balls!