Have you ever wondered what popular celebrities might look like were they to suddenly sprout a moustache? Well, Fashion Beans have answered your every want and whim having created these fantastic images to help promote Movember for 2014. So as men around the world shun their razor blades once more all in the name of raising awareness for men's health issues, can you figure out which iconic moustaches from the past and present these celebrities are sporting? You can try out the quiz over at Buzzfeed to find out how you fare in the stache stakes or simply guess away from the images below, answers are at the bottom, but no cheating! Go on, have some fun in the name of a good cause.
Beyonce is sporting an impressive pair of handlebars.

Whose sleek stache is Cheryl hiding behind?
That's some mighty fine facial hair on Chris Brown's face!
David Beckham has gone dark and mysterious with his new look.
Emma Watson is accentuating her pretty looks with a twirled handlebar moustache…
Whereas Eva Mendes has gone all out on her new look.
Sensible and tidy is the way forward for George Clooney.
Iggy Azalea is working the horseshoe moustache.

Jamie Foxx is really rocking this neat tash.

Kaley Cuoco is looking very pleased with her toothbrush moustache.
Looking good in that trendy tash Kanye…
But is Kim pulling off the tiny tash even better?!
Leo's moustache is one of the more unique styles.
But Mila Kunis has gone safe and sensible with hers.
Whose tidy tash has Nicky Minaj borrowed?
Certainly one of the more iconic looks, Robert Pattinson is sporting true burnsides.
With whom has Ryan Gosling swapped his designer stubble for a tidy tash?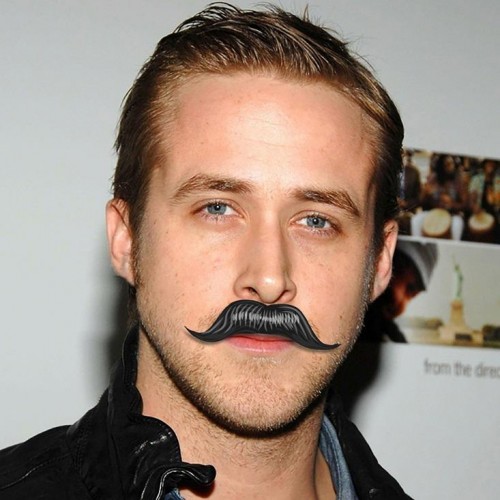 Simon Cowell is sporting the pencil moustache look.
And Taylor Swift is another one pulling off the toothbrush style perfectly.
But is Zac Efron's newly sprouted stache the most unique?<
Answers:
Beyonce: Wyatt Earp
Cheryl Fernandez-Versini: Clark Gable
Chris Brown: Walter White
David Beckham: Daley Thompson
Emma Watson: Rollie Fingers
Eva Mendes: Che Guevara
George Clooney: Freddy Mercury
Iggy Azalea: Hulk Hogan
Jamie Foxx: Borat
Kaley Cuoco: Charlie Chaplin
Kanye West: Ron Burgundy
Kim Kardashian: Hercule Poirot
Leonardo DiCaprio: Groucho Marx
Mila Kunis: Tom Selleck
Nicky Minaj: Ned Flanders
Robert Pattinson: Lemmy
Ryan Gosling: Joseph Stalin
Simon Cowell: Mugabe
Taylor Swift: Oliver Hardy
Zac Efron: Salvador Dali