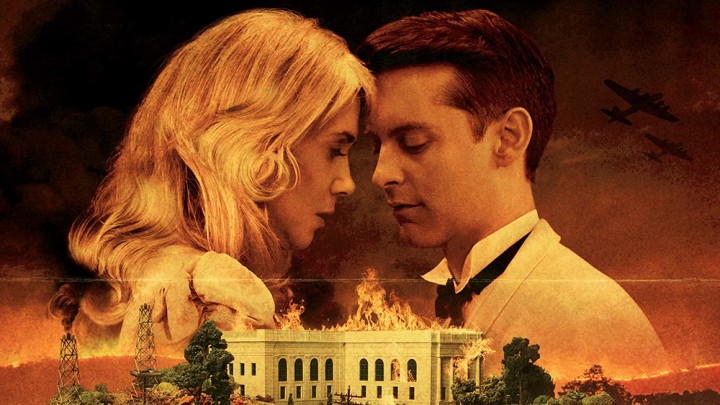 When I first saw the trailer for The Spoils of Babylon six months ago I instantly knew that I was going to love this show. The Spoils of Babylon is a send up of miserable 80's miniseries produced by Funny or Die's Will Ferrell and Adam McKay. Spoils features a star studded cast including Tobey MacGuire, Kristin Whig, Tim Robbins, Haley Joel Osment, Val Kilmer, and Jessica Alba.
The mini series premiered last Thursday and Hulu has chosen to stream the first episode of the series spanning multiple generations and wars. The series reminds me of an amalgam between Twin Peaks, Garth Marenghi's Dark Place, and Saturday Night Live. Every episode of Spoils begins with Ferrell as Eric Jonrosh a decrepit novelist who spent his fortunes adapting The Spoils of Babylon into a film series. Ferrell blends his classic comedy within the genre as he regales the audience of his sexual exploits with nearly every cast member including his wife.
Next, we are plunged into the world of Babylon where Tobey MacGuire plays Devin Morehouse the adoptive son of Jonah Morehouse an oil baron in the 1930's.  Devin's step sister and incestual love interest is Kristin Whig as Cynthia Morehouse who nails the antebellum damsel character to a tee. While the first episode spins its wheels establishing the bizarre slapstick universe, episode two plunges straight into the absurdity of this universe. Case in point, Carrie Mulligan offers her voice to Devin's new flame, a plastic mannequin, following the Second World War.
Despite my disdain for Tobey MacGuire's incessant narration in  Baz Luhrman's The Great Gatsby, MacGuire soft voice is perfectly in place in The Spoils of Babylon. Spouting of verbose statements where he waxes poetic about love, war and family Morehouse disregards the world around him.
Tim Robbins also kills it as the disapproving patriarch of the Morehouse family, I can't wait for the next couple episode where we can see more of Val Kilmer and Haley Joel Osment.
Favorite Moments
"Time was measured in work, it was also measured on clocks and watches, but mostly work."
The British mannequin is from "Wellingtonshire"
"Let me go there. Let me talk to this Mr. 'Tanaka.'" "There's no need for air quotes, that's his real name."
Kristin Whig cutting up her food at breakfast was hilarious.