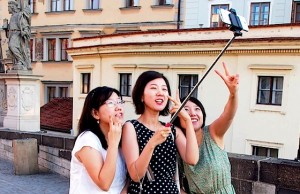 Selfies have taken the Internet by storm. But there is an easier way for you to take that selfie. It seems like everyone and their mom now owns the selfie stick. A long list of A-list celebrities even own the selfie stick and they aren't afraid to show it.
What exactly is the selfie stick? It is a stick that you can attach your phone or camera to. The stick can reach longer than your arm, so it is the perfect tool to use to take a selfie. I have heard they are all over amusement parks. But they are also a hot trend among celebrities. If you happen to need a camera to put on that selfie stick, bestcompactcamera2016.com has great deals.
Leonardo Dicaprio was spotted not long ago using his selfie stick in New York City. Tom Hanks brought his to David Letterman and was able to get a pretty cool selfie of the two of them. You can catch P. Diddy (or whatever he goes by now days) using his selfie stick quite often while he travels the world. Kevin Hart even brought his selfie stick to the People's Choice Awards. But the most surprising celeb selfie stick user goes to President Barak Obama. He gave the stick a try and his selfie went viral.
The selfie stick was actually named one of Time Magazine's best 25 inventions of 2014. But some places and events ban the selfie stick. San Diego's Comic Con recently announced that selfie sticks will be banned this year. I personally witnessed a bunch of people using the selfie stick on a boat over Memorial Day weekend. I have to admit, it is a pretty cool device. I think it is more used to grab a photo of you in an awesome setting. With the stick, you can get more of the background. So I do understand why a lot of tourists use it.