A few years back I was sent to a Jewish "song leading" camp. Without getting into too much detail (and without sending me back to the times of being a Jewish song leader), the week-long camp was designed for song leaders (the dudes that stand in front of a camp full of Jewish kids and sing songs — kill me) to meet up and learn the newest songs of praise and worship… I'm making it sound a lot worse than it actually is/was…
After my 4 hour flight to Wisconsin and being immediately rushed into a van with some fellow song leaders, I arrived at the camp in desperate need of a cigarette. Oh, but no! First you have to go into the cafeteria and meet everyone! Most of the attendees had known each other for years from either working together at their own camp of choice or from this annual song leader meetup. It was there that I decided to skip the formalities and sneak out the back to finally get my nicotine fix.
On my way out I met another cigarette junkie searching for freedom: A tall, skinny, hip looking dude who looked to be around my age with the same gleam of addiction sparkling in his eyes. Once we got outside we lit up our smokes and began talking. His name was Etienne and he was from Paris. Ten minutes and three cigarettes later we were best friends. We talked about playing guitar, being in bands, being Jews, etc etc. At first I was pretty proud of myself for being in a few bands that had recorded some songs, won a battle of the bands and played a bar mitvah or two. I was immediately put to shame when Etienne had told me about his latest accomplishments in his Paris-based band, Les Shades. From touring throughout France, being signed to Sony Records and getting tons radio airplay, his story trumped mine tenfold.
As the week of Jewish song leading came to an end, Etienne and I decided to stay in touch. This was two years ago and we still do a pretty good job of keeping up with each other. It was just a few months ago he told me Les Shades were about to release their third album and I decided to finally get an in depth look at a band not many Americans (if any) will get the chance to appreciate.

"We know we are blessed we met each other."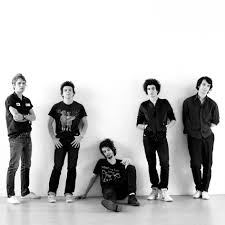 Modern Thrill: How long have you guys been together?
Etienne Shades: We've been together for, let me think about it, almost 10 years. Time freaking flies! What's good is that we started the band at a very young age, I think our drummer was barely 13. So now, well, he is still the youngest, but he is only 23.
MT: How did you guys meet? How do you know each other?
ES: Benjamin (singer/guitarist/songwritter) and I are brothers. I am five years older. Since the people [my age] were not really into indie rock music, I asked my brother to find people closer to his age to play in the band.
The other members are classmates of his. I was the oldest dude but It never got awkward. Like, those guys have a musical education and I am kind of the punk rocker in this band so they taught me a lot about music and at the same time  I am hot and smart so I help them with life and girls. It is a very good deal for all of us.
MT: How would you describe the music you play? What genre, if any, would you classify yourselves as?
ES: We are the sons of the Strokes. It's useless lying about it. I even met Julian Casablancas in a record shop in Paris and bought him our first album, telling him everything about us as a band. I don't know if he ever listened to it. But at least he knows.
Indie Rock, Indie pop music. We don't have any specific influence in the studio. We only think about the song. What is good for the song. Does it need special arrangements, crazy guitar noises, weird backing vocals? We don't care if we are inspired by Dr Dre, Bach, or The Queens of the Stone Age. We don't like limits. It's all about the song and how crazy it can get.
MT: What kind of success have you seen in your native country? Record deals, endorsements, tours?
ES: Well, we come from Paris' rock'n'roll scene. 6 years ago, all of our bands got famous. We've been on tv, radio shows, etc etc… Those were crazy years. All the kids were going insane, no matter where they were from. At that time, we signed with an awesome indie label called Tricatel. they released our first eps and first album.
By the time this excitement around the scene calmed down, we moved to Sony Music's Jive/Epic for the second album. They signed us after listening to our second album. They were very enthusiastic about it but after releasing it, we realized they had priorities, like Britney, Michael Jackson, and big french artists. So our managers made a sweet escape possible and we left Sony Music.
And now that most of the bands we grew up with split up, and after this experience with a major label, we had to make a decision. We thought we had to take things into our own  hands and we decided on producing our third album on our own because we are in love with each other, because we have many supporters, and because we know that if we don't play our music, nobody will.
As for the tours, well,  we toured France something like three times and I am pretty sure none of the girls we met at the time are pregnant. I mean, with Facebook, we would have known about it for sure right?
MT: What "big plans" do you think Sony ha in store for you? What made you guys want to leave? Was it fear of becoming too popular? Getting too mainstream?
ES: Surprisingly, being on Sony Music was not a problem artistically. They were very open minded. We also had contracts protecting us 100% on any artistic decision. And they were happy about us having this power.
The problem was that they didn't have a plan. Indie music in France, is completely dead. France is Hip Hop's second biggest market in the world. Our local hip hop scene is huge and great. But Rock'n'roll is only third or fourth on the list. We don't have indie music radios, tv channels etc… As for Sony, they were too big to promote an indie rock band… we only discovered that after signing the contracts. And they were honest enough to admit it.
We really wanted to go mainstream, because mainstream means that the band will be your day job, and that's maybe the best thing that can happen to a band. But we've never been greedy enough to forget about our musical taste.
At the end of the day, even if it's really complicated, we are so happy with what we are doing today, we have discovered that you don't have to make a living out of you music to be happy. You just have to play music. I think this is what's going to happen to music today.
Bands won't be able to make a living out of their records and tours. But they will make enough money to record another album. What happened between the 50s and Mp3s was a beautiful accident. Artists are not meant to be rich. We are meant to suffer from what we can't stop doing. I am being so french right?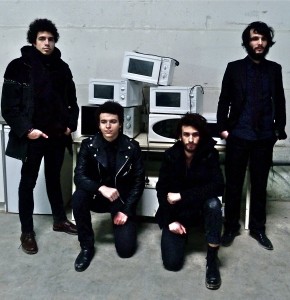 "We don't like limits. It's all about the song and how crazy it can get."
MT: Have you ever wanted to tour in America? Shows in America? Why do you think most Americans haven't heard of you guys?
ES: Well, America is a dream. It is far, most of the bands we listen to are from there. It is almost unreal. And we used to think that it is useless going there, play some gigs and come back to France. We went there as tourists though. When you sing in French, you know it won't be easy to make things happen anywhere else but in France.
But now, we have realized things have changed. The internet makes everything possible. We already have like, 100 fans in Mexico. We believe in the power of  good music because blog owners have taste. They only trust in themselves, they don't have to talk about something because there's money on the table from a big company that tells them what to play. they are not scared about getting fired because they took the  risk to talk about a band they like, even if it is indie music sung in French. So thanks to that, we make our music travel for us, and that's the beauty of the 21st century.
MT: Why should Americans listen to you? What's the appeal?
ES: I think that French music is very special because of the use of the French language. it influences on the way we write songs. So it makes them sound very special. Talking about Hip Hop, many producers sample french music to make huge hits. And when you love music, well, you want to listen to crazy stuff. Thus here we are, for you guys.
MT:  Why are you excited about your newest album? How have you grown with this album?
ES: We are so excited because we produced it on our own. It is already our third album and we barely are older than 20 years old. It is raw. It is filled with passion and love, and rage. Because I love the guys I play music with. They are so talented and they are my brothers. We know we are blessed we met each other.
We have grown. We are back from hell actually. At some point, everything was so fucked up. We had everything and everything vanished in the matter of three years. And what remained? The same guys, with the same love of playing music together. It increased our confidence a lot. And it made us record our best album so far. This one, the third one. And people have listened to it. And they are thrilled to meet us again. So even in the eyes of our audience, we can feel we've grown.
We don't care about anything anymore. In the studio, we just play. We use to look for recognition, because we were so young. And we got respected by the older bands for our talent. After this, we started asking ourselves too many questions. That's why even if we love it, we consider our second album has a problem. So with the third album, we just decided to rock the shit out of the studio. And, fortunately, that's what happened.
MT: What do you mean by "…back from hell.." What was so fucked up?
ES: Well you know, we were on top of the hype. Our first album was classified right next to MGMT's "Oracular Spectacular", and Sebastien Tellier's "Sexuality" in the best albums of the year 2008. It was getting crazy, we had filled one of the biggest concert places in Paris, been on the most popular tv shows and then, with the second album, all of this suddenly disappeared .
For sure, being on a major company was dragging us away from our fan base, but at the same time, being the best band around is a success that kills you in the long term because people listen to your music not because you're good, but because it is what you "have to listen to" at the moment.
At the same time, we know we weren't satisfied with the music on our second album. So it was a mix of all those things that were making us falling apart. Fortunately enough, as I told you, at the end of this journey, in hell, we found each other. And this is how recording a third album became possible.