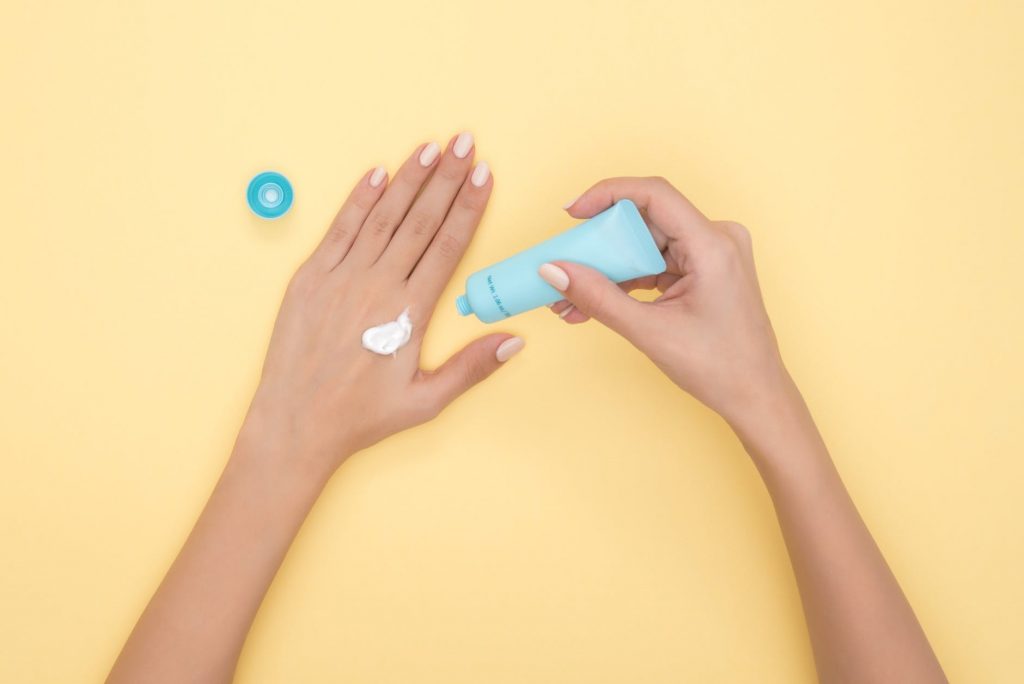 CBD or Cannabidiol is a non-psychoactive ingredient in the cannabis plant. It has been hyped as the next big solution for everything. It is effective in relieving pain, inflammation, depression, anxiety; improve quality of sleep, to name a few.

It is now incorporated in beauty products to promote restorative healing. CBD oil studies have shown that it can treat eczema, dry skin and psoriasis with it analgesic and inflammatory properties. That is why you can find the oil in body lotions, face creams and serums.

Anti-inflammatory Properties

CBD oil has powerful antioxidant and anti-inflammatory properties. It is added in skin care products such as lotions, serums and creams to smooth rough cells on the skin surface and offer moisturizing benefits.

CBD oil can help with inflamed acne. It will relieve inflammation, reduce breakouts of acne and even soothe redness. Acne is a condition of the skin and is characterized by bumps. The bumps are pimples, blackheads, cysts and whiteheads.

The pores in the skin contain sebaceous gland/oil gland. The gland produces oil or sebum which lubricates the skin. Sometimes the glands produce more sebum than is needed and clog the pores of the skin.

If bacteria are trapped inside the pores, it multiplies and causes swelling and redness. This forms painful acne. CBD infused beauty and skin care products will relieve the inflammation and even prevent and treat the acne due to its antibacterial nature.

Stress Management
Stress is one of the causes of acne breakouts and wrinkles forming. It is during the busiest times in our life that we notice more acne forming and creases in our face. There are many options of handling stress such as exercise and therapy.

But did you know CBD oil can help people suffering from depression and stress? CBD oil studies have shown that it has calming effects which are beneficial to mental and physical health. It is the right time to try CBD oil if you experiencing these symptoms;

-Rapid heart rate
-Difficulty focusing
-Insomnia
-Irritability
-Headaches, stomach aches
-Excessive sweating
-Fatigue
-Muscle tension

I would recommend full spectrum CBD oil that have high potency. The best CBD oils for stress are 100% natural hence do not cause side effects. They come from trusted manufacturers, who have the exceptional sourcing and manufacturing process. Additional, buy CBD oil that is lab tested and certified.

Antioxidant

CBD oil is the super ingredient in beauty and skin care products. Though the oil has gained popularity in the health field, it has also generated a significant amount of buzz in the beauty industry.

CBD oil is a powerful oxidant. Manufacturers in beauty industry will find it helpful for their anti-aging beauty products. Oxidation speeds up the aging process by interfering with the normal functioning of skin cells.

It causes corrosion in the body and it is responsible for diseases such as cancer and Alzheimer's. The skin is constantly exposed to free radicals. To deal with this constant threat, CBD oil has been added in beauty products to provide defense mechanism and repair oxidant-induced damage.

The oil will work wonders by battling oxidative stress and will be of tremendous help to the elderly. One CBD oil study found anti-oxidative properties of the oil are more powerful than vitamin E and C.

CBD oil has vitamin and other nutrients that are beneficial to the skin.

CBD oil for sensitive skin

It has been found that CBD oil can help sensitive skin. It has soothing properties that will calm the skin from issues related to environment stress. The oil will work for sensitive and normal skin too.
It is also effective in the management of skin conditions such as acne. Its antibacterial and antifungal effects will help reduce skin infections. To effectively use CBD oil for skin, you can mix it with olive oil or Shea butter then apply on your skin.

Oral CBD oil is also effective for the skin. Its anti-inflammatory and oxidative substances will still be effective when they enter the body. Buy topical applications infused with CBD oil if you have Eczema, psoriasis and wrinkles.

Final Thoughts

There is absolutely no question; CBD oil has numerous beauty-related advantages. It is everywhere you go, pharmacies, spas, beauty stores and most recently in your body lotions, cream, serum and lip balms.

It has a soothing effect on skin and will help dry skin. CBD oil beauty and skin care products have been used in the treatment of acne and other skin conditions. Its inflammatory and anti-oxidative properties will relieve inflammation on the skin.

Skin is your body's largest organ and so it is important to take care of it from external stress. Eczema, sun damage, acne and skin infections may pose a real threat to your skin. CBD oil for skin care will help solve most of these skin problems.