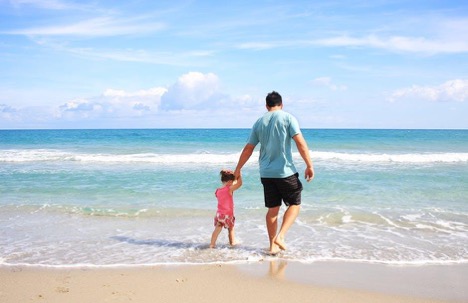 With Spring Break around the corner, families all over the country are itching to get out of their homes and do something fun. The only things potentially holding you back from making good on these promises are logistics and finances. Travelling with children isn't always easy, nor is it always cheap. But if you're willing to keep reading, you may find a way to keep your next holiday affordable and stress-free.
Set the right expectations
You don't need to be told twice that life changes after you have kids. Your life is a daily reminder of this lesson — and it's one that you should apply to your vacations.
Although you may have been able to keep your travels cheap pre-family by backpacking through Central and South America and staying at economical hostels, these money-saving tips don't apply when you're travelling with kids.
Risks you were willing to take on your own aren't worth it when you have a family, so you may not be willing to adventure across a continent or stay in dirty accommodations.
You can't expect to have the same kind of experience as you did without kids, so don't go into planning a vacation without coming to terms with this.
You should also manage the expectations of your little ones. Their ideal trip may be to Disneyland or Universal Studios — two very expensive kid-friendly destinations. While it's a good idea to involve them in the planning, don't let their imaginations run away with them.
Think outside the box
Spring Break has certain connotations, even when you're travelling as a family. People often equate this vacation with sunny, ocean-side destinations where the sand's hot and the water's clear.
Although a beach getaway is a popular way to spend your holiday, it may also be an expensive one if you opt for international, all-inclusive resorts.
If you're willing to break out of this thinking, you may be able to brainstorm alternative options that are kinder on your wallet. Some cheaper options may include:
A camping trip within your state
A holiday with friends or family in another part of the country
An international vacation to a country where the US dollar is high
Waiting until after Spring Break to avoid surge pricing
Copy others
Don't panic if you're having trouble thinking of family-friendly Spring Break ideas. Open up a new tab and search what other parents just like you have done in the past. A simple Internet search may light the spark of inspiration.
It may also be overwhelming as you're inundated with page after page of search results to look through. That's why a lot of families still end up using travel agents to find affordable options.
Travel agents have years of experience under their belt, so they know a thing or two about travelling with kids. They also have special resources at their disposal that most people don't even know exist.
Although they aren't as fast as Google when it comes to generating results, travel agents will present personalized options. They may be able to help find the cheapest flight for your family, the most affordable kid-friendly resorts during Spring Break, and other family-friend activities in your preferred destination.
Remember life: after vacation
Sometimes, Spring Break isn't just about getting time off school and work; it's about making memories your family will cherish for the rest of your lives. The only problem with this is that it may lead you to spend more than you planned on your trip.
In the heat of the moment, it's easy to justify buying expensive souvenirs or reserving fancy dinners for your family. But remember, life waits for you back home. You'll still have all the same responsibilities as you did before you left.
You may even have some surprise expenses you weren't anticipating. Sticking to your budget and contributing to a savings account separate from your travel fund may help you face these unexpected bills and repairs without panicking.
But don't worry if your savings fall short. An online lender like MoneyKey offers fast-acting payday loans that act as a convenient stopgap, letting you take on essential repairs you couldn't have anticipated. A payday loan may help you take on one-time, short-term emergencies like coming home to a broken furnace or damaged car. If this sounds like something you could use, learn more about this lending option before you apply.
Travelling with children may be harder than travelling on your own, but it may also be a lot more fun than any of your solo trips. Don't let your task intimidate you and ground your family's flights. With some creative thinking and hard work, you'll be able to take an unforgettable trip without busting your budget.