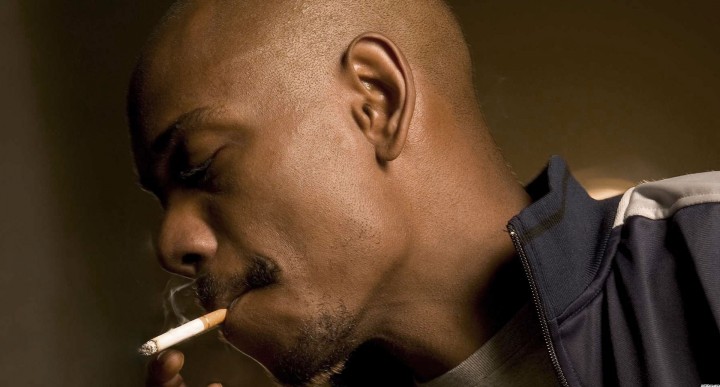 Dave Chappelle is touring. Give that a second to sink in, Dave "I'm fed up with being a public figure" Chappelle is going on a month long tour to perform stand-up comedy. This is the first time in nearly 8 years that Chappelle has embarked on a stand-up tour. Since leaving Comedy Central's massively popular "Chappelle's Show" in 2005 to find himself in South Africa  Chappelle has kept his head down. Aside from a couple surprise performances at the Laugh Factory in Los Angeles and other drop in shows peppered throughout the U.S. and abroad the comic has not done anything close to a legitimate performance.
Chappelle left his eponymous sketch show after he became disheartened by the show's message.  He felt that the show was being steered in a direction that reinforced racial stereotypes as opposed to satirizing the American ethnic landscape. Additionally, his stand-up performances were burdened by hecklers shouting "I'm Rick James, Bitch!" and other quotes from his sketch show. The comedian has always said that stand-up was his number one passion and that he did the sketch show to promote his tours.
Dave has teased us over the past couple years with rumors that he would tour with Chris Rock or star in a Ben Stiller movie but with Funny or Die's announcement of the Oddball Comedy & Curiosity Festival it looks like Dave is back… at least for 13 dates across the U.S.. Funny or Die made the announcement earlier today via video below.
Oddball Comedy & Curiosity Festival w/ Dave Chappelle & Flight of the Conchords! – watch more funny videos
If it wasn't cool enough that Dave Chappelle is back in action he is being joined by a veritable who's who of comedy including Flight of the Concords. Below is the rest of the comedy crew.
Al Madrigal
A current correspondent on the daily show Al Madrigal has been doing stand-up professionally for over a decade. His blend of social commentary and racial humor makes him seem like a perfect fit with Chappelle.
Demetri Martin
Another veteran of Comedy Central sketch shows. Martin is known for his quirky performances and one line delivery.
Hannibal Buress
Buress has been a rising star in the stand-up community for the past couple years. He's made appearances on Louie, John Oliver's New York Stand-Up Show and Late Night with Jimmy Fallon. Buress is definitely a comic to keep an eye out for.
John Mulaney
One of my favorite stand-up specials from 2012 came from this Saturday Night Live staff writer.
Kristen Schaal
You've seen her on Flight of the Conchords but she is also a hilarious stand-up comedian and performance artist.
Jim Jeffries
My favorite drunken story telling Aussie.
Dates
| | | |
| --- | --- | --- |
| Aug 23, 2013 |  Austin, TX |  Austin 360 Amphitheater |
| Aug 24, 2013 |  Houston, TX |  Cynthia Woods Mitchell Pavilion |
| Aug 25, 2013 |   Dallas, TX |  Gexa Energy Pavilion |
| Aug 30, 2013 |   Pittsburgh, PA |  First Niagara Pavilion |
| Aug 31, 2013 |   Tinley Park, IL |  First Midwest Bank Amphitheater |
| Sep 01, 2013 |   Detroit, MI |  DTE Energy Music Theatre |
| Sep 06, 2013 |   Camden, NJ |  Susquehanna Bank Center |
| Sep 07, 2013 |  Holmdel, NJ |  PNC Bank Arts Center |
| Sep 08, 2013 |  Mansfield, MA |  Comcast Center |
| Sep 13, 2013 |  Denver, CO |  Fiddler's Green Amphitheatre |
| Sep 15, 2013 |  Irvine, CA |  Verizon Wireless Amphitheatre |
| Sep 20, 2013 |  Mountain View, CA |  Shoreline Amphitheater |
| Sep 22, 2013 |  Phoenix, AZ |  Desert Sky Pavilion |
Tickets go on sale this Friday, June 21st
Also featuring