Hello, and welcome to the first installment of Sam's Top 10 GIFs.
A little background: I've been a fan of GIFs for as long as I can remember. I use them in online conversation as much as possible. Ask my co-workers and you'll find that most of my emails are not complete without the addition of a GIF I've either recently found or one I've loved for some time.
Whether you pronounce it GIF (like Jif peanut butter) or GIF (hard 'G'), I hope you too will find these to be as amusing as I do.
GIFs below are rated in order by how often I've searched for them on Google from January 2013 to July 2013.
10. "Kramer Smoking and Drinking"
9. "Bees!!"
8. "Dan Majerle Catches a Baseball"
7. "There is No Need to Be Upset"
4. "Humping"
5. Tie between "Kid Dancing to 'Vogue'" & "Gangsta Kid Dancing"
4. "Correct Answer Horse"
3. "So Hard"
2. "Jubilation in Newark"
1. "Kid in Shock at Wrestling Match"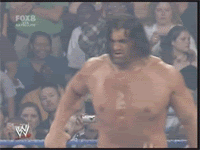 That's it for now. I encourage you to send me some of your favorite GIFs to be considered for the next installment of "Sam's Top 10 GIFs."
Thanks,
Sam