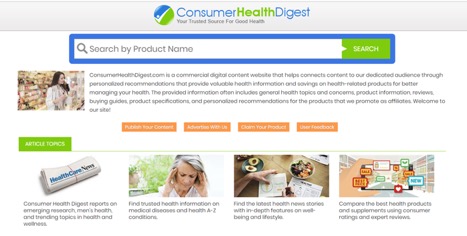 A website can look beautiful and modern and take all the awards when it comes to aesthetics, but that is worth zilch if the content quality is not high. That is particularly important in specific industries that should aim at providing valuable information, such as the health niche.
In this industry, content quality is essential as you have the responsibility of providing facts that can help the readers to manage their health better.
Let's take a look at how Consumer Health Digest manages to maintain their high quality over the years.
What Can You Find on Consumer Health Digest?
Before we start talking about content quality, let's see what type of content you can find on Consumer Health Digest. We divided everything into four major categories that you may come across while browsing the website:
News – based on the latest events related to the health industry. You can also find the latest tips and study reports
Articles – these offer experts' view on popular health and wellness topics. You can read what doctors, psychologists, nutritionists, sports coaches, and other professional think about the latest trends and events in the industry
Guides – specialized in-depth articles on particular health conditions. They offer a comprehensive look at more than 100 different conditions and diseases with all the necessary information to know everything about it, such as causes, symptoms, signs, diagnosis, prevention, treatments, etc.
Reviews – an essential tool to find the best supplement or health product for your needs. Check out detailed reviews of numerous different products and learn everything about them
Is the Information Evidence-Based?
Providing health information is an extremely sensitive business and contributors have to be very careful. Unlike many websites out there that publish unbacked info and unchecked facts, the writing team of Consumer Health Digest takes their business seriously.
Regardless of the category, you visit and the type of article you read, you can rest assured that the content published is evidence-based. In fact, you can also find links to studies and research where the writers obtained the information. Facts are all that interests the contributors of the Consumer Health Digest and they do their best to back each piece of information published with evidence.
On top of that, it is vital to note that the sources used are reliable and you will never find a fact supported by information published in an unreliable media. Instead, the writers rely only on studies, research, and the most reputable websites in the industry.
Is the Content Well-Written?
It is always up for debate what does well-written mean, but what we considered are some general technical standards that content needs to fulfill. For starters, the structure of the article. You will find that the information is presented in an organized way and that the content is divided into subsections with appropriate subheading and paragraphs.
Next, you will notice that there are no grammar or spelling errors. The sentences are clear and concise, as well as relevant to the topic. The writers make sure to stick to the area they are writing about and never stray off-topic.
Furthermore, the information provided responds to the tile and is complete, which means that you will find what you were looking for in the desired article.
Are the Writers Objective?
This is a crucial question and the answer is – yes, the writers of Consumer Health Digest are objective. It is partially because they are required to support every claim with sources that can easily be checked and partially because the writers are not allowed to share their personal point of views, but potentially only recommendations based on facts.
Is the Content Unbiased?
This is something that often worries people regarding health product reviews, but there is no need for that. One of the reasons Consumer Health Digest has been so successful for years is that they ensure that their content is unbiased and provides true value for the readers. Nobody that is connected with the product they are reviewing can in any way influence the content they will publish. The author makes sure to collect the required information and accurately portray the advantages and drawbacks of the product.
Do They Regularly Publish the Content?
This is something any reputable website needs to do if they want to have regular visitors. That is something that is perfectly clear to the writing team of Consumer Health Digest, which is why they constantly publish fresh news, articles, and reviews.
Furthermore, if there is any new health information or product change, they make sure to update the review in accordance with that.
The Verdict
Although we are witnesses that many websites offer false, biased, and unchecked information, Consumer Health Digest uses a different approach. They make sure to provide top-quality content in various categories so that visitors of all profiles will have something interesting and educational to read. The content they provide is unbiased and evidence-based, but the writers also make sure that it is well-structured and organized in a way that you will enjoy reading an article.
Finally, you can regularly find new content on Consumer Health Digest, which is why you should make sure to visit them today and start catching up with hundreds of great articles that are already in their archive.