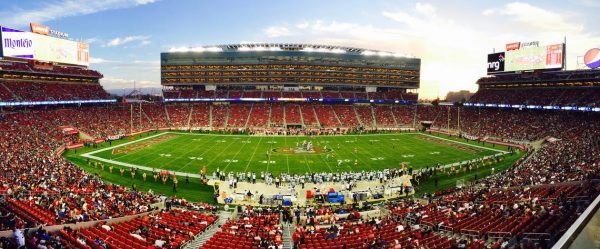 Football season might be over for now, but it is never too early to start getting ready for the next season, after all, the draft is only a couple of months away.
The Super Bowl
The Super Bowl this year was expected to be big on all levels, including the game and halftime show. Despite the hype, fans were seriously let down.  The season ended with the New England Patriots winning the Super Bowl over the Los Angeles Rams in one of the most boring and lowest scoring games in history. The most interesting part of the entire night might have been the prop bets about Doritos commercials! With Tom Brady earning his sixth Super Bowl ring, many are wondering what are in the cards for the New England Patriots next season.
What to Look Forward to
The draft will be in April and the Arizona Cardinals have the number one pick. With their star wide receiver, Larry Fitzgerald, committing to another year, the team has a lot of pressure to do well this season. They also have a new coach, which always makes things interesting. The Oakland Raiders have the second pick in the draft along with a few other first found picks. We are all curious who they will draft since it seems like coach John Gruden has been busy rebuilding the team during his first year as head coach of the Raiders. The offseason should answer many of our questions like if the Philadelphia Eagles will end up keeping quarterback Nick Foles or what will happen to the Pittsburgh Steelers after the fiasco with Le'Veon Bell and Antonio Brown this last season. Also, are the Chicago Bears going to win the division this year again with the help of Khalil Mack? Is MVP Patrick Mahomes going to shine again this season, leading the Kansas City Chiefs to another dominating year? There are many things to look forward to next season and many unanswered questions!
Who Will Win the Super Bowl Next Year?
It is a little early to start guessing and it is always a surprise in the end, but who are the top contenders to win the Super Bowl next year? I am personally hoping for a Kansas City Chiefs and Chicago Bears Super Bowl, with the Chiefs taking home the Lombardi trophy. Many think that the New England Patriots will return, winning again and perhaps the Philadelphia Eagles. The New Orleans Saints also have a good chance of going to the biggest game of the year thanks to Drew Brees. And of course, the Los Angeles Rams are expected to be at the top of the league next year again.