It's been an interesting few years for the electronic scene as a whole. From the Sahara Tent being the main event at Coachella for some concert goers, to festivals like EDC and HARD Fest experiencing record breaking numbers for attendance, it's clear to see this new found love for electro is becoming much more than a fad. With our "YouTube" generation controlling the next big thing, it's obvious that the scene will grow and warp itself into something unpredictable, and we are constantly striving to find the newest, coolest, hardest, funkiest, sexiest (and sometimes weirdest) acts around. Luckily, there is a country where all of these acts can be found in the same place: South Africa.
We've found 5 of the best South African producers to show you just why artists like Skrillex, Diplo and Alvin Risk are raving (pun intended) about this up and coming scene.
Sibot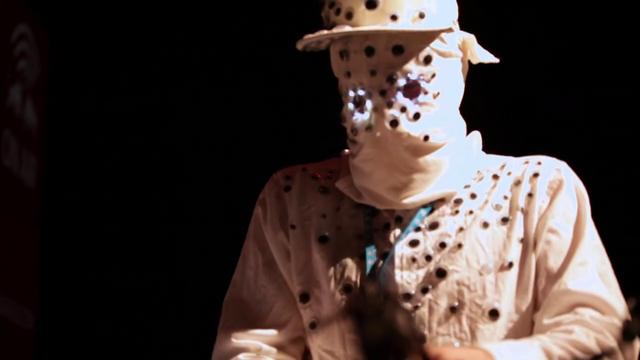 Sibot, by far the most creative and individual of these South African artists, has been taking the EDM scene by storm within the past year. After becoming recognized as one of the best DJ's in South Africa in 2002, Sibot's career has only gone up. His newest EP entitled "Throw Away," is a blend of traditional electronic sounds with a big scoop of that unique South African "trip-hop" vibe. The thing that truly separates Sibot from the rest of not only the South African music scene, but the current electronic scene around the world, is the development of his live show. Using a collection of synthesizers, drum pads, and an assortment of mixing effects, Sibot has completely separated himself as a producer and a live performer.
Die Antwoord
Leading the "Zef" movement (basically white trash with gold chains) in South Africa, Die Antwoord is the "rave rap" group that was made widely popular thanks to their videos for the tracks "Enter the Ninja" and "Baby's on Fire," which took YouTube by storm. The group, consisting of the vocal duo "Ninja" and "Vi$$er," has already gotten plenty of nods from the American outlet, working with Diplo on the single "Evil Boy" and performing in front of an estimated 40,000 people at Coachella in 2010. Die Antwoord embrace their sexy trashy style, but more importantly raise their fists to the generic with their electronic hip hop, which could be seen when they left Interscope records in 2011 in order to pursue their own production company (appropriately named) Zef Recordz.
Jam Jarr
Having almost ten years of music backlogged, Jam Jarr is finally breaking through on the South African Scene. Providing some incredibly huge sounds is Soundproof  (Kieron Grieve) together with lyricist Waykin Bakaman (Paul Stubbs). Their style ranges from DNB to dubstep to glitch-hop to straight funky hip hop, creating a sound as if it were a collaboration between Del the Funky Homosapien and Koan Sound. Unfortunately, no U.S. appearances seem to be in the future, but given enough time it's a guarantee that these two will soon be heard world-wide.
Mr Sakitumi
 The RJD2 of South Africa, Mr Sakitumi provides a sound he classifies as "Live Hiptronica." His sound ranges anywhere from mellow dub to upbeat world hip hop. Like many of these listed artists, Mr Sakitumi is well known for his live shows, as he can be seen spinning on real vinyl while wielding his bass guitar and a mass collections of keyboards and mixing devices to play along with his own grooves. Having played with artists like Sibot and Ninja, Sakitumi is no stranger to the SA scene. His first EP entitled "Secret Asian Man" was released in mid June of 2011 and features tracks you could play at a house party you invite your parents to. "Refried Noodles," which only came out in December of 2012 is the type of EP you could or should put on a party to impress people as the "guy who listens to like, everything."
 Richard the Third
One of the most varying sounds in the South African electronic scene, Richard the Third has an impressive resume one could hardly pass over. Since the early 2000's, Richard the Third has been producing, remixing and partying across South Africa. He's been a resident at multiple avant garde clubs in Cape Town and has appeared at some of South Africa's biggest music festivals including the Colour Festival coming up on March 2nd. Some of his mixes resemble the early style of house music while others are futuristic with a "chill dub" attitude.