It's a Christmas tradition to go out on Christmas day with the whole my family, toddlers to geriatrics, and catch whatever awful holiday movie that Hollywood pinched out before the big day. If you saw a trailer for a bad Christmas movie chances are I've seen it.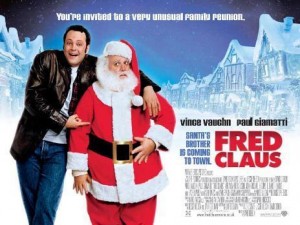 Christmas with the Kranks, Fred Claus, The Santa Claus 1 and 2,  The Family Stone, Surviving Christmas- the list goes on and on with far too many appearances by seasoned method-actor Tim Allen.  I always dreaded this part of the day, I'd much rather be sitting on the couch drinking the bottle of Crown Royale I bought for my dad and gorging on holiday confections.
So I went online to check which movie I would begrudgingly be sitting through while my grandma keeps asking me, "Now who's that on the screen there," and much to my surprise I couldn't find a single Christmas movie.  My heart sank. As much as hate sitting through the same cookie-cutter family Christmas comedy there is something disheartening about a lack of holiday movies.  What are the kids going to do? This got me thinking.
Why do we love these horribly predictable Christmas flicks? I had to take a stroll down memory lane to find my answer. The year was 1996, one of the first years I could form conscious thoughts and not vomit popcorn in the theatre, and my parents took the whole family to see what I always assumed was a Christmas classic, Jingle All The Way starring Arnold Swarzeneggar. When I saw this movie I laughed my ass off and snatched it up as soon as it came out on VHS. I still love this movie and the movie I saw the next year starring Jonathon Taylor Thomas, I'll Be Home for Christmas. Now that I think of it I think I've enjoyed all the movies that I've been dragged to Christmas day.
And I mean genuinely enjoyed, not that "it's so bad it's good" mentality. These Christmas movies enjoyable because, much like the characters on screen, no matter how fucked up your family is the 364 days before and after Christmas for just one day you can feel like you can set everything else aside.