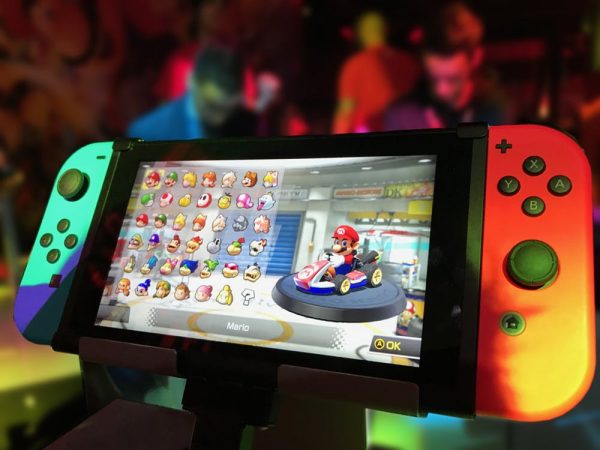 For gamers, the Nintendo Switch has the best of both worlds – it's a home console to enjoy with your friends but can be transformed into a handheld system in a snap, so you can take it wherever you go. More opportunities to play our favourite games? We're in!
Whether you want to play at home or on-the-go (or both!), here are some of our favourite titles that you should try:
Mario Kart 8
Of course, we can't mention the Nintendo without a nod to the legendary Mario Kart. All your favourite tracks are back, along with the familiar faces you know and love – not to mention a few new characters, too.
That's not all that's new, either. You can play anywhere, with up to eight friends available to join in through local wireless multiplayer. The battle mode has been revamped and there's new courses to try out, like Urchin Underpass. Players can even carry two items at once now. If there's one opponent who you couldn't defeat from the last release, let them know that Mario is back and this time, he's new and improved. They've met their match!
Crash Bandicoot N'Sane Trilogy
Here's another blast from the past for gamers who loved Crash Bandicoot when the first PlayStation console was released (way back in 1996).
Your favourite childhood friend spins, jumps and crashes to the Nintendo Switch in 2018 with three of your favourite adventures: Crash Bandicoot, Crash Bandicoot 2: Cortex Strikes Back and Crash Bandicoot: Warped. And all in HD this time around! Wump back in time and help Crash save the world once again.
WWE 2K18
Do you imagine yourself proudly holding up the championship belt? Enter the ring with WWE 2K18 on Nintendo Switch and assume the identity of one (or all) of your favourite Superstars. Grapple and clothesline your way through Wrestlemania and use that special final move for your moment of glory – when you're inducted into the WWE Hall of Fame.
This new release is more realistic than ever, bringing all the drama to life. With its Dynamic Creation Suite (allowing you to customise your wrestlers), a huge roster and the chance to compete with opponents online using MyPlayer, this is the best version of the WWE game yet!
L.A. Noire
Harking back to the days of the tense film noir, this dark crime thriller is unmissable for those who revel in detective dramas. Special facial animation technology was used to fully capture every expression on the actor's face, and the plots and conspiracies are inspired by real crimes from Los Angeles in the 1940s – a corrupt and violent era in their history.
As you search for clues and hunt down suspects throughout all the twist and turns in the storyline, you'll start to wonder who you can really trust…
If you want the choice to play your favourite games wherever and whenever you want, the Switch console is the one for you!