When you think about a wedding, a few activities immediately come to mind as part of the process—the bride trying on dresses, taste testing cakes and entrees, the father of the bride giving her away, the bride and groom's first dance. The unifying factor between these events is that none of them include the Groomsmen in any way. If you're going to dress up a bunch of guys in monkey suits and have 'em stand around for a few hours, you might as will give them some pretty groovy groomsmen gifts, right? RIGHT?!?
Right, so with that in mind, lets take a look at some of the most awesome, manly groomsmen gifts that you can get for individual groomsmen, or the entire group.
The Paul Bunyon Man Ax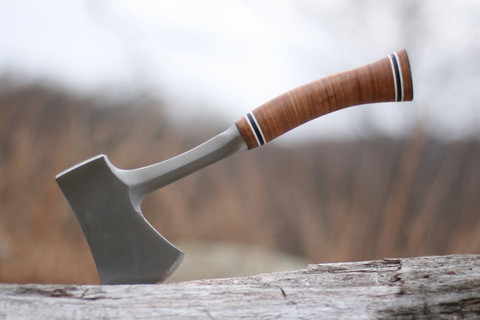 This Ax has very little to do with weddings, or groomsmen—but it has a lot to do with being a man, and doing manly stuff. Are you out there Survivormanning or Bear Gryllsing your way through the woods? Hunting, scouting, camping, chopping, or chopping, you can chop all the stuff that you need to chop with this manly hatchet. Steel blade, leather grip, comes fully polished and with a sheath—this is a wedding gift that will survive the test of time.
The Commemorative Bobblehead Doll
As a male human, I can confirm for you, the reader, that 100% of guys want to be immortalized in bobblehead form. Its just one of those bucket list things that we all must do. From the first time I saw Dwight Schrute get that bobblehead gift I knew that one day, I, too, would need to be a bobblehead. Get the complete set, one for each groomsmen, and it will be the only thing the wedding guests talk about (in a good way).
The All-in-One Sinful Products Case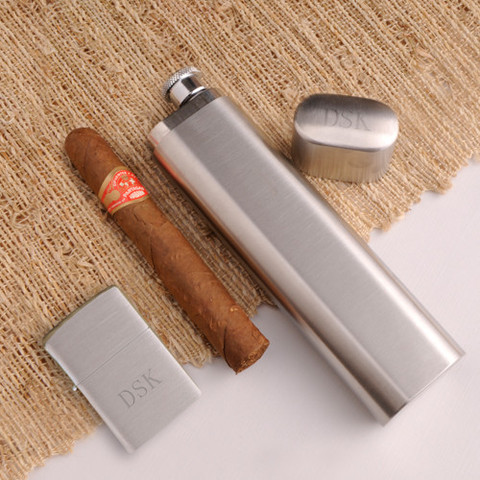 Short, sweet and to the point. Groomsmen, and men in general, need a place to hold their cigars and whiskey. Technically you can put other things in the flask, but if its not whiskey (also acceptable scotch or bourbon) then your man card may be revoked. So this handsome stainless steel rig kills 4 birds with 1 stone. A super high quality Zippo light, a cigar case, and flask, all personalized with your Groomsmens' initials.
The Pocketsquarevelope Invitation (slash) Souvenir Gift


"Be there or Be SQUARE" announces this saucy pocket squarevelope. (PLEASE NOTE THE SQUAREVELOPE DOES NOT COME WITH A POCKET SQUARE, YOU MUST PURCHASE THOSE SEPARATELY). Most guys you know don't even own a suit, let alone a pocket square. And being a fashionable, metrosexual (or metrocurious) man about town is what is going on these days. Your groomsmen will be looking sexy and stylish, the bridesmaids will never know what hit 'em.
Maybe its a little childish, but lets be honest, we men are generally very similar to children. No matter how old a guy gets, there is still a part of him that wants to be part of the Goodfellas or the Rat Pack, or the Reservoir Dogs set. Well now, with the advent of photoshop, your groom to be and groomsmen can all be expertly shopped into the movie poster of your choosing. You'll get a digital copy of the poster, so you can share or print off as many physical copies as you might desire.
This is just a small sampling of the fun/funny/unique gifts that are available at Groovy Groomsmen Gifts. Any one of these is sure to be a hit, a major talking point and icebreaker at any wedding.