We've all been scammed from time to time. It's practically a right of passage when entering adulthood, and if you're not used to it, it can be difficult to tell the difference between a professional, and a professional scammer.
In fact, common phone scams cost the United States over 8 billion dollars a year. But, there's been a recent rise in professional cover letter scam artists, too. The following article will teach you how to spot them.
A cover letter is the introduction to a resume packet. The cover letter is the first paper viewed by the business, and it is the first opportunity to introduce yourself to the company you want to work for. A cover letter is used to differentiate yourself from the competition and catch the eye of the hiring manager. It is an extremely important component of the job search.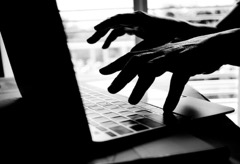 If you're not accustomed to professional, formal writing, you might want to consider hiring a professional to write your cover letter. Since the cover letter is the first impression the business will have of you, you want it to be polished and stand out from the other applicants.
There are a wide variety of professional cover letter writing services available. Prices can vary drastically, as well as the level of experience the writers have, and what industries they are knowledgeable about. But, how can you tell which one is a legitimate cover letter writing business, and which one is not?
Scam artists are everywhere, and there is more than one way to scam an unsuspecting individual. With the advantages of technology, it's easy for scammers to hide behind their computer screens. Documents, and photos can be easily faked.
Below are a few tools to equip yourself when trying to find a legitimate cover letter writing service.
Recommendations and Connections
Ask friends, family, and acquaintances for recommendations. A professional cover letter writer with a reputation is an excellent starting point.
Also, if someone close to you has used their services, you'll be aware of the quality of work you'll be getting in return for your money. But, remain alert when contacting the recommended professional. If the initial consultation is not free, that is a red flag.
Research
Research the company, or person, you plan to hire. Ask for references, research online for reviews and ratings, and if possible, contact the references. If they don't have any, that is another red flag.
Asking for examples of their previously written work is another option you might consider.
If you're still unsure, require that the conversation be moved to a phone call, or a video chat. If they're a scammer, chances are, they'll refuse this standard request.
Greed
Be aware of the going rate for a professionally-written cover letter.
If the professional you're reaching out to is overpriced, and fails on the above recommendations and research tips, run.
Often, greed can be accompanied with threats. Ignore them. If you're being bullied into an arrangement, you don't want to work with them anyway, even if they're a legit business. There's no shame in walking away if you feel uncomfortable.
Professionalism is important for you and for them. If they fail to show any, they're not worth your time.
Impersonal
Hiring a professional who asks impersonal questions isn't recommended. Your e-mail exchange shouldn't feel like a standard 'copy and paste' question template. If it does, move on to your next option of hire.
A committed professional is what you're looking for, not one who already has the questions written before you've contacted them. A cover letter is very specific and personal, and a professional should understand this and act accordingly.
Unprofessionalism
There is more than one way to be scammed. It isn't only about a stranger taking your money and running. You could be hiring a sincere cover letter writer, but in fact, they're unprofessional. False advertising and untruthful qualifications is a scam.
Also, there should be a money-back guarantee attached to your agreement, or a certain number of revisions without additional costs.
Grammar
A professional will always look, and write, professionally. Most likely, you'll be communicating through email or text.
If your cover letter writer is writing to you with grammatical errors, chances are, it's a scam. If they struggle with your language, it's a scam.
Why would you hire a cover letter writer if they can't give you the courtesy of correct grammar in your correspondences?
One of the main reasons you want to hire a professional is so your cover letter is free of errors. If the person you're contacting sends messages riddled with typos and convoluted sentence structure, move on. You'd be surprised at how many resumes are deleted by businesses due to a single grammatical error in the first line of a cover letter.
Money Suspicions
When dealing with a business who isn't local, you may be asked to wire money, either straight from your bank or card, or through a third party, such as Paypal.
If you're asked to wire money to a person or company who has no relation to your contact, it is a scam. Be aware before you send the money to the recipient that your bank will not be able to recover your stolen money.
After you find a serious professional and have your cover letter in hand, you can help the next person by leaving a review. Likewise, if you were unable to do your due diligence and are scammed, let someone else know with a review, or a social media post.
While scams and scammers may seem abundant in the digital age, there are thousands of legitimate cover letter writing services out there. By utilizing the above tips when looking to hire a professional, you'll be able to avoid the scammers, get the best cover letter for your money, and land your dream job.