Well, it's Thursday, you know what that means: everyone's favorite time of the week (besides Saturday brunch) — Throwback Thursday! For the throwback this week, we have a real treat. Modern Thrill is proud to bring you the best (wonderfully terrible?) MTV shows of the past. Below, we will countdown our Top 10 MTV shows from when we were "teens" in "the aughts" and MTV was one of our top 3 fave television networks.  
10. The Osbournes (2002-2005)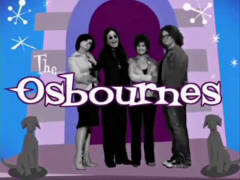 SHAAARRROOONN! Some might say a mess, most might say entertaining, we say TOTALLY OBSESSED. As a teen during the time the Osbournes had a reality show on MTV, this crazy family was among our first experiences with being hooked on reality TV. As the original Kardashians, Ozzy, Sharon, Kelly, Jack, and their farm-sized amount of pets really knew how to keep you glued week after week. Our favorite moment was Kelly's secret "daddy" tattoo. Remember that? Aww.
9. Jackass (2000-2002)
Ryan (Rest in Peace you beautiful flower), Chris, Steve-O, Brandon, Bam, and the mastermind himself, Johnny, created a television show that had us laughing (cringing) and wishing we were more adventurous, or grateful that we were smart enough not to staple our butt cheeks (among many other body parts). As dumb as it was, this show definitely gave birth to a careless, adventurous mindset that we still see on TV. Ridiculousness, Fear Factor, etc. Plus, sometimes it's just funny to laugh at people who are willingly being hurt.
8. MTV Cribs (2000-they still film C-list celebrities' homes)
God Bless MTV for giving us the ability to see "where the magic happens" for Aaron Carter. Besides the lame "where the magic happens" jokes and the lavish closets, the best part of MTV cribs was the refrigerator. Be honest, late at night, when you're alone with your thoughts, the only thing running around your mind is what type of condiments and drinks are in 50 Cent's fridge. Every episode was filled with the great joy of seeing what our favorite B-list celebrity stocked their fridge with. Dom? Rose? Name-brand sodas? Our other favorite part of MTV Cribs was catching all the "original" and "witty" ways the stars kicked the film crew out of their homes. "Ok, MTV, you've seen my kitchen, my cars, and my bedroom…now GET OUT." – everyone.
7. Pimp My Ride (2004-2007)
"You like popcorn? We know! We put a popcorn maker in your trunk, your seats are made out of popcorn kernels, your car now runs on butter, and check your glove box–THAT'S RIGHT, A FULL POPCORN CONCESSION STAND!" said Xzibit at one point on Pimp My Ride, maybe, probably. We loved seeing what ridiculous things Xzibit and crew did to these winners*.
*Are they really winners?
6. Room Raiders (2003- apparently it's still on, who knew?)
Room Raiders inflicted the fear that someone would raid your room and see those secret stains on the bed you thought you cleaned up. Just kidding…hopefully. One of the most entertaining shows was based on the premise of strangers going through other stranger's belongings and then based solely on their room, picking someone to date. Crazy, but entertaining.
5. Laguna Beach (2004-2006)
Ah, who knew the real O.C. was full of such juicy drama? LC and her crew of frenemies kept us glued week to week to see who would steal Stephen's heart next. Is he with LC or is he with Kristin?! Once we got older, we understood that it may not be the realest of realities, but damn, were we invested in those teen lives.
4. Daria (1997-2001)
The world may not have been ready for Daria. If it were on today, it would be a smash hit. Shows today from Bob's Burgers to Silicon Valley share a similar vibe and humor to Daria. We enjoyed her moody, dry humor even though some sarcastic remarks might have flown over our heads. Looking back, Daria was a queen.
3. Newlyweds: Nick & Jessica (2003-2005)
Ok, ok…maybe we have a reality tv addiction. Clearly, it started in the 2000's, but who was not watching Nick and Jessica? Newlyweds was so compelling, Chicken of the Sea saw an 80% increase in sales** after the famous Jessica Simpson quote. This was also the first couple we remember that saw the fate of the reality show divorce curse. So sad.
**100% scientific evidence to backup this claim
2. Next (2005-Next is still on too?)
Shallow and brilliant, Next was the show where contestants got off a bus (one at a time) to meet a stranger. The two strangers would then share a date, at which any point the main contestant could say "NEXT" and move onto the next person sitting on the bus. Sometimes the "NEXT" was brutal and instant after a person walked off the bus. We loved watching these cringe-worthy first dates and pitying the poor girl who never got a shot with the hot shallow guy in the episode (or vise versa because Feminism).
1. TRL (1998-2008) (started out as Total Request Live)
TRL has to be our number one. Running for 10 years from 1998 to 2008, TRL was our go-to music TV show. You were a total loser if you didn't know what the top video was from the day before. Even though the top 3 usually stayed the same the majority of the week, you could not miss a day. Record it on your VHS and watch it later. Besides the fantastic early 2000 music videos, our favorite musical icons were also guests on the show giving arguably, the best interviews ever. Sadly, TRL ended before this 90's kid was old enough to venture out to Times Square to watch from outside the window (yeah, maybe I should have had higher standards and dreamed of actually being in the studio).