The outdated perception that cruise ship activities comprise almost exclusively of shuffleboard and bingo is becoming an ever-smaller dot on the horizon. Understanding the importance of broadening their target demographic, cruise lines are implementing an increasing number of technologically-advanced amenities and features.
Quantum Class Cruising
"You can't think quantum without thinking leap and that's what this ship is. With Quantum of the Seas we wanted to create a new paradigm of what cruising would be all about."
This was the gauntlet thrown down by Royal Caribbean chairman on CEO, Richard Fain, as the cruise line's newest ship, Quantum of the Seas, was christened in New York this month. The company have targeted new audiences with their Quantum class of ships (two ships are due to join the class in 2015 and 2016) by incorporating cutting-edge technologies and features.
One of the biggest advances made by the Quantum of the Seas is the implementation of the quickest, most reliable internet on a passenger ship. Utilising technology from O3b Networks, the ship is capable of supporting a quick and reliable internet connection for thousands of passengers in the middle of the ocean. Not only does this help passengers stay in touch with loved ones on the shores but is set to revolutionise on-board operations – allowing them to utilise remote concierge tools.
Futuristic Fun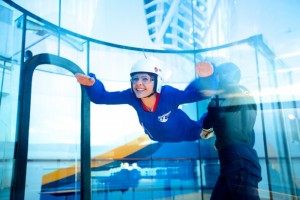 From sky diving to surfing, millions of dollars are being spent on developing amenities and features on cruise ships to guarantee the enjoyment of passengers. Incredible feats of engineering are helping provide a more comprehensive holiday for cruise passengers of all ages.
Rather than simply being a vessel and a means to travel between destinations, the cruise ship is more and more becoming the fulcrum and the focus of the holiday – proving a wide range of experiences for passengers.
An Accurate Reflection of Internet Culture
Recognising the desire of holidaymakers to stay in constant connection with their friends and family back home, the CruiseTraka app has been developed to share the experiences of cruisers wherever they are in the world. The app automatically boasts on behalf of cruisers to their connections via social media or email – keeping them abreast of their journeys with photographs and up-to-date maps.
Cruise travel agent Cruise1st are the first company in the UK to utilise this app, automatically offering it to all customers who book a holiday. This makes the process of sending boastful updates to jealous work colleagues a lot easier.
Opening up New Destinations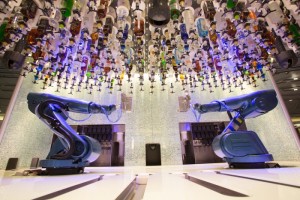 Cruise holiday destinations and port visits are traditionally restricted by a number of geographical features – with only natural or man-made harbours able to support giant vessels throwing down anchor. This meant that larger ships were unable to visit smaller, more fragile destinations. However, plans to build a revolutionary off-shore port for the historic city of Venice could change the cruising industry forever.
Remote locations which cannot support access by airplane or large liner may suddenly become legitimate cruise destination for thousands of guests simultaneously.