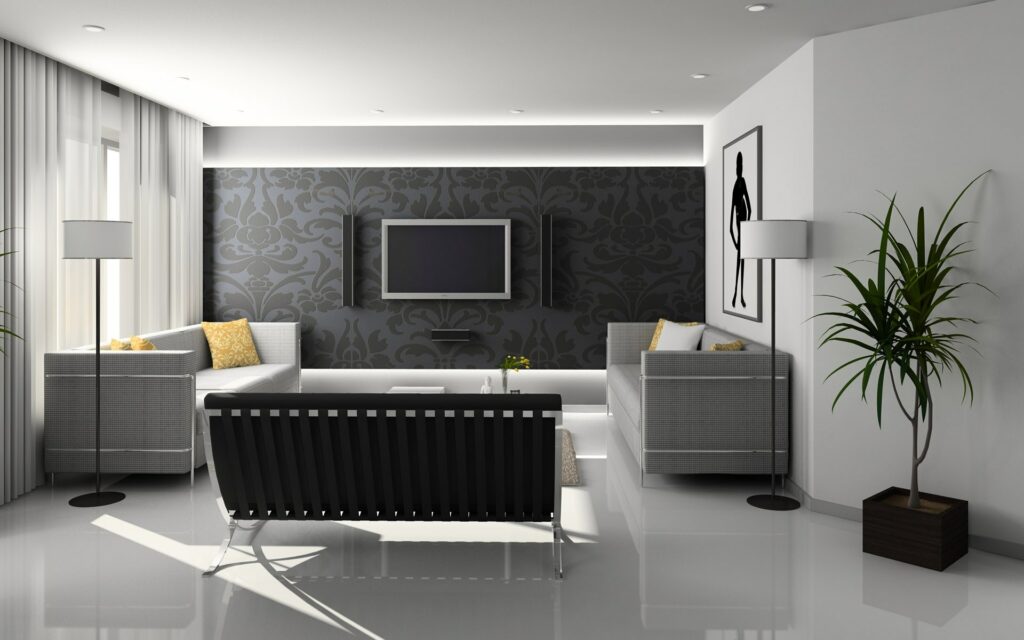 A lot of interior design trends start in the bigger cities. For example, architects in London could start using striped accent walls, and within a few months, this will have trickled out to the masses and become the latest trend. If you feel that your home could do with a modern makeover, keep reading and discover some tips to inject some life into your designs!
Open Plan
The most common theme you'll notice with modern homes is an open plan with plenty of space. The space itself may not actually be huge, but by pairing down furnishings and using simple fixtures, you can make the room feel more spacious than it is. Open plan living creates an air of luxury as the lack of ornamenting creates a brighter, bigger space.
Wooden Furnishings
Using wooden furniture can give your space a rustic vibe, without ruining the modern ambiance. Accents of wood, such as an antique dining table, can bring a touch of colour to a neutral room but still keep it looking sleek and natural.
Unique Angles and Materials
For a truly in-vogue look, play around with asymmetrical pieces. Don't be afraid to position your furniture at different angles to break up the room to offer a stylised finish. Lots of newly built properties make use of interesting materials too like cement. Mix up the finishes on your walls to create a trendy, but industrial look.
Keep It Clean
You want to try to avoid bright, garish colours like yellow. Instead, opt for a toned-down mustard and pair it with other neutral browns. Modernity is all about giving your home that fresh feeling and adding flashy colours either on the floors or via accessories, will really detract from it.
Experiment With Shape
Although you want to be careful with colour, be inspired by weird and wonderful shapes! The kidney bean-shaped coffee table can bring a hint of fun without sticking out amongst the other pieces. Try mixing them up too. For example, have a sharp, rectangular mantlepiece with a softer, rounded footstool. You want the pieces you choose to look intentional and add layers to the styling.
Delicate Touches Of Personality and Warmth
Although you'll be steering away from warm colours, you want to incorporate some warmth so that the rooms don't feel clinical. Adding pendant lighting throughout the rooms can add a subtle glow that doesn't remove the overall ambiance of the modern style. You might want to inject a little more personality into your home. Hang some art on the bare walls to really tie the room together. You don't need to limit yourself to artists born in the 21st century either. If a piece matches the tone of your room, it doesn't matter if the art itself isn't the most current style.
When trying to change up your home interior to reflect a modern style, try not to restrict yourself completely. You don't want to remove all colour and life from your home and end up living in a white box. Make sure you co-ordinate your palette with your furnishings, try out new cutting edge trends and you'll find modernism is a lot easier than you think.