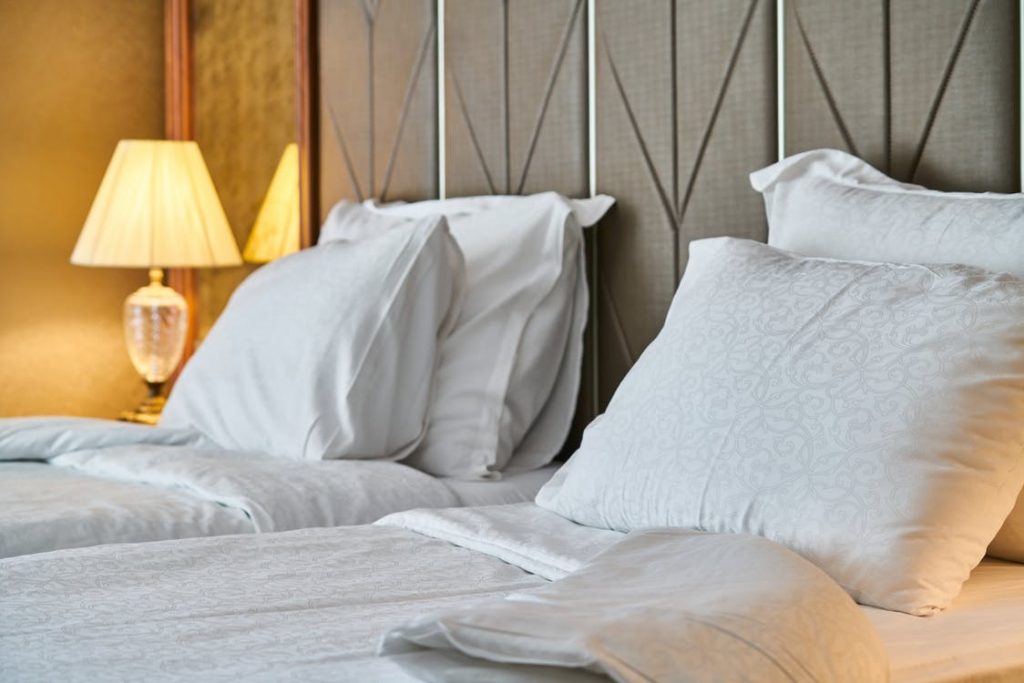 When a highly successful entrepreneur writes in Forbes magazine that he has no permanent address, that he only stays in 5 star hotels – choosing to spend his money on luxury suites (and dining out) rather than bricks and mortar, you sit up and take notice.
Everybody knows that property is the safest investment, right?
But what if your prospects rest, not on staying in one place but on moving around, keeping pace with current trends, meeting people, making connections?
A reasonably priced 5 star hotel (or if those prices are too high, a good 4 star hotel) can offer a better ROI.
In an increasingly connected, globalised world, where economies are in flux and flexibility is key, where data and know-how are commodities, the people you meet are what benefits your business. Think about it.

Going Up
A hotel is more than just your room or suite: it's a constantly evolving crossroad for many travellers, and potentially a source of valuable contacts. Talking about the weather to someone in a hotel elevator can result in valuable contracts and new insights into unexpected business opportunities. The person you meet in a hotel bar, whom you wouldn't consider as a potential client (because you didn't know about their area of business) becomes an unexpected match for the services you offer.

More choice
When you have flexibility on hotel bookings, it makes life a lot straight forward when it comes to finding quality accommodation in central London hotels.
The need to balance both travel policy and traveller's needs, is a big consideration. And when colleagues are able to stay in hotels that cater for all their needs – it only follows that they will be more productive on business trips.

Service
Businessmen are people with little time on their hands. It's more than likely that they're always working. So, the levels of service that a typical luxury hotel can provide is a godsend. Especially if you're working virtually or by phone across different time zones; local mealtimes don't always apply to your schedule. Or when you suddenly get a call to take a flight with little notice.

Flexible venue spaces
5 star hotels can provide a range of flexible spaces for events, meetings, seminars. Whether you're talking about formal presentations or a leisurely chat in a bar, a lunch or an evening meal, these options are a given.

Health
Staying fit is not a bad idea if you're working flat out, so a good hotel gym, with a personal trainer or mentor if that is your preference, can help with endurance levels. But quite simply, exercise makes you feel better, and a positive outlook makes the world go round. It's also said to reduce feelings of tiredness (so does drinking water, most people are chronically dehydrated).
A good hotel has a well-equipped gym. And a trainer to help you stay on top.

Relaxation
The benefits of a fine spa and grooming services are beyond price. You won't regret any time spent in these areas.

Housekeeping
Never underestimate the value of a good hotel laundry. Those clothes come back not just clean, but pressed and folded. Ready to wear or fresh for your suitcase. Hotels also keep your room spotless, change the sheets and empty the rubbish. Discreetly. Priceless.

Home from Home
If you stay regularly at a favourite hotel the staff get to know you and your preferences. Room service might even get to recognise your voice.

Food
A good hotel has an excellent restaurant (handy for business meetings) and bar facilities. This is also the kind of place where you might find yourself striking up a conversation with someone interesting. You can learn a lot from other people's stories, and one valuable connection could lead to the kind of rewards that pay for your transient lifestyle.
And given the excellent location of a good 5 star London hotel, you're likely to find yourself with many other interesting eateries on your doorstep.
Room service will also provide for out of hours refuelling on long days, and special dietary requirements.

Location, surroundings
An excellent London 5 star hotel is situated in the heart of an exciting city, and moreover it's very raison d'etre is to provide comfort and a sense of well-being, which has to be a boost to anyone's concept of what is possible.
It's not for everyone, and it's unlikely to be forever. But for some, it more than proves its worth.