Playing casino games is always a great time. You can play many of them at casinos or even online. Not all games require a deck of cards either. There is a lot more to casino games than blackjack and poker.
Roulette
Roulette is a really fun game that means little wheel in French. Players chose to bet on single numbers, even or odd numbers, a range of numbers or colors red or black. Players can also bet on the green 0 and green 00. Then, a croupier spins a wheel and a ball spins in the opposite direction and lands in one of the 38 pockets. Whatever color and number is on that pocket is the winning number. Vegas isn't the only place where you can play roulette. You can find an online casino that also offers this game. You can play multiple players or alone.
Slot Machines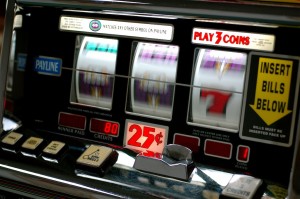 One of the most popular casino games is the slot machine. It comes in a variety of types that range in cost. The sound of a slot machine really defines a casino. You know you are in a casino when you hear the winning change drop. A slot machine is made up of three or more reels that spin when a button is pushed or a handle is pulled down. The handle is the old style of slot machines, but a lot of newer slots still offer that option. The payout is based on the patterns of the symbols and how much was bet. It really is the luck of the spin. About 70% of a casino's average income comes from slot machines.
Craps
Dice games are a blast to play, especially craps. Players make wagers on the outcome of a roll of a pair of dice. The game is a lot of fun and entertaining when a lot of people are playing, but you can also play solo. Craps became very popular among soldiers during World War 2. Craps really make me think of casinos and especially Las Vegas. Many times you will see a photo of people surrounded by a craps table when you see a casino promotion.